GOURMET BURGER NIGHT IS BACK!
After the amazing response last time, Gourmet Burger Night is back for 2022!
Throughout January and February, we will be hosting Gourmet Burger Night at The Waterfront, offering a variety of burger options, in a build-your-own format. Select your burger of choice, and then add your sides. Check out the menu below!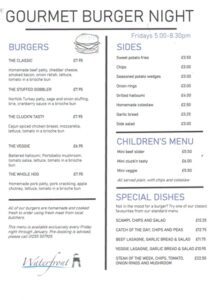 All of our burgers are homemade and cooked fresh to order, using fresh meat from local butchers, and our menu has been lovingly crafted to create some great flavour combinations for each burger. We also have a children's selection available, so you can enjoy these with the whole family, and a few of our favourite dishes from the main menu in case you fancied something different!
We have had lots of interest so far, so advise booking in advance to get involved. You can reserve your table by calling 01255 507905, or through the website booking form. Food is served 5.00pm-8.30pm on these special evenings.