THE NEW NORMAL
A look at our return to business post-lockdown…
Along with all of our loyal customers, we were happy when the announcement came that we could re-open on Saturday 4th July. The Waterfront is usually such a hive of activity and host to so many various events, to see it plunged into darkness for months was truly surreal.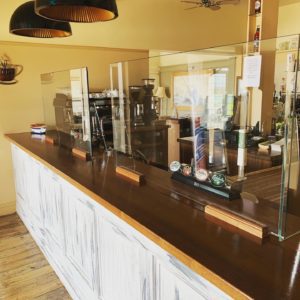 Whilst we were excited to get back to business, it was very clear to us this was not going to be "business as usual", as we all adjusted to life after lockdown, and the many changes this had to bring. We set to work, preparing and planning how we could open and make all of you feel completely safe during your time with us, and introduced many measures that we adhere to, including:
increased cleaning procedures, particularly at high-contact areas
staff all wear face masks for table service, and have been provided personal anti-bacterial gel and PPE
track-and-trace of every party
staff washing hands regularly
tables remain distanced 2 metres apart
increased use of outside areas, with our improved seating
disposable menus
regular toilet checks and cleans
We continue to carry out these measures, and review regularly if anything can be relaxed, improved or added. We are also currently only open Friday-Sunday, to keep staff safe whilst still ensuring customers have access to us at our most in-demand times.
We want to say a big thank you to everyone who has visited us over the past six weeks, and made our re-opening a huge success. We have been so happy to see the restaurant busy again, and are appreciative of all the support and kindness people have shown as we adjust to the new normal. The feedback we have received has been wonderful, and we are so pleased you have all felt safe and secure with us.
For a little while longer it seems large events will not be possible unfortunately, so we wait on further advice on when we can safely go ahead, and we can't wait to see Sally's full of life and party spirit as soon as possible! If you have an event booked with us for later this year, we will be in touch as soon as we have further guidance.
As we enjoy the summer weather, don't forget you can book your table by calling us on 01255 507905 or through our online booking form which is now back live. Tables are up to a max of 6 persons currently, and are available for 2 hour slots.
Welcome back!
Tags: covid, drinks, food, restaurant, safety